Federal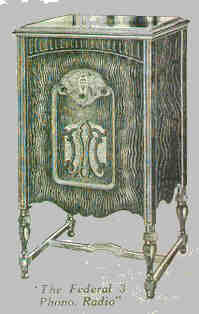 The Federal 3
Phono-Radio
Federal Radio has proved itself to the Melbourne public in the last few years. The name is now the hallmark of a reputation gained by strict adherance to rigid standards of quality and unstinted service.
Now, with Federal Phono-Radio combinations, fitted with special , silent, slow speed, electric motor, dynamic speaker, and B.T.H. pick-up, the ultimate has been achieved in an instrument to supply you with whatever programmes you require.
Price 60 Pounds
"Taken from 1930 Advert"