Tecnico-Aristocrat
Tecnico Electronics, 13-19 Glebe St. Glebe. NSW
Also Carrington Rd. Marickville, NSW.
Not just radios, but also Vacuum Cleaners, Lawn Mowers and many other domestic appliances. The Art Deco inspired Aristocrat has, just in the last couple of years, become one of Australias most sought after vintage radios, especially in Green Bakelite. They are a stunner!

RSS Feed For Tecnico radios on eBay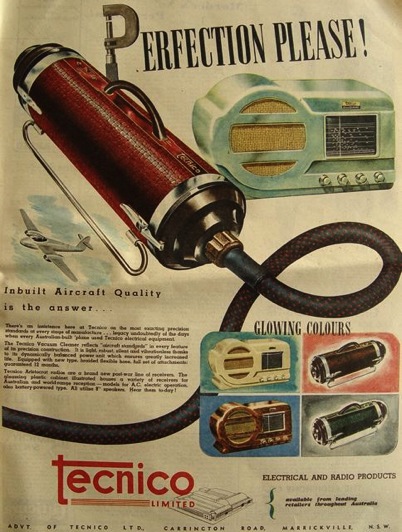 1940s Art Deco Influenced Tecnico Valve Radio and Vacuum Cleaner.

Like many Radio firms, Tecnico were known to diversify!
How Old Is Your Tecnico Radio